Gobbledygook
This blog has no real meaning, with the exception that at the moment I just want to write something and post these pictures. The title of the blog is a vocab word I learned while studying for my GRE Vocab section.
I've been starting work on the livelihood sustainment project, however I have found myself with a surplus of extra time on my hands. Holy week is just around the corner, thus taking much of people's attention from work. It is also "election" time in the Philippines; this up coming May. This means that many of the people at the office, and unfortunately much of the office funding, is being used for election campaigns. Limiting the ability to accomplish overtly large tasks at the moment. To be fair, I knew that this was going to take place. Thus my extension. Yet however much you are aware, expect, and prepare for some events to take place, when they move from the future to the present they tend to have unexpected effects. In this case it is a bit of homesickness. This also is due to the fact that many people from my batch are now preparing to leave. However I do think this homesickness is much better than having frustration with work. I know now its just part of life in the Philippines and I have to be patient and accomplish what I can in the mean time. With my spare time I have done a few more dives and been putting in some serious hours on my bike. What I should be doing is studying more for me GRE. I will most likely be doing much more of biking, diving, and studying in the upcoming month and a half before election.
Below are pictures of myself diving off the islands of Romblon. It is clear on second picture that I really have no idea what I am doing underwater. The thumbs up sign means to head to the surface. I should have giving the "A-Okay" sign. When the camera was there, that was my first reflex. It was my first underwater picture, my nerves got to me.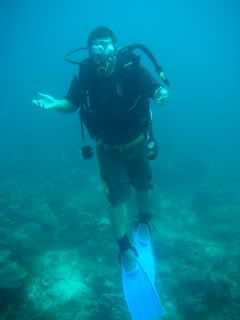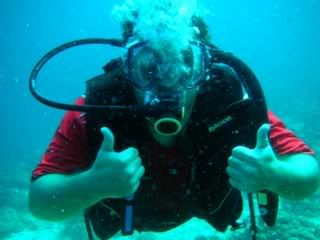 The two pictures located below have nothing related with each other, or the others on this page. Yet I wanted to post them none-the-less. The first picture is of Mt. Napulak. This is the mountain located not far from my home that I had climbed last year with some friends from the city. I hope to repeat this climb later this year. The next picture is of Brgy Cagbang. The village where I am working with the livelihood sustainment project. Just over the bridge, on the left is were the association will place their pottery workshop.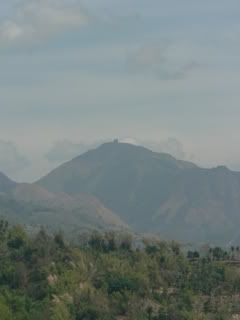 Below are some Macro shots I have taken in the past.