Blunderings of the Good Sort
Hello all. It has been sometime since I have put up a real worthy blog. I will remedy this today. So much has happened in the past month or so. On both this side of the world and the other. Elections, Bears are 8 and 1, Packers are not even close, Work here for me is good. With the exception of Arsenal's defeat this week of the Reds......Life is good.

I had a realization of sorts the other day. I was standing in the Municipal MRF (Material Recycling Facility), which I have been assisting in building and overseeing over the past year and I got extremely happy. To me it has appeared to come along at such a slow pace since I arrived at site. However while standing there I realized how much it has grown in that time and I got an overwhelming since of pride. Overlooking the workers sorting and segregating the residual waste into different piles for different uses, the sheds for all the recyclable waste, the compost bins that have finally been completed, the pure organic demo farm. It felt good. I need not take credit for all this, not even in the slightest. My counterpart, Jerome Novilla, is amazing, and he is first and foremost the driver of these projects. However I assist in many a way, and I take just as much pride in his work as I do in my own. I prefer it more this way. I know all this will last well beyond my last day here. In addition to that, I am happy to say I have just been allocated a large sum of money to host the first Miss Kalikasan Miagao (Miss Nature Miagao). This was a concept conjured up once again between myself and Jerome, after implementing solid waste management in schools last year. It is a way for us to increase community awareness of the Municipality's environmental projects, as well as stimulate youth environmental activism. We also snuck in some "sister" contests that should really have a financial benefit on the participating schools, involving junk dealers and fund raising. The contests finish up next February and I'll be sure to let you all know how it turns out. Okay, I'm done blowing my own horn here. I always fell awkward writing or talking about my work. Work is just not something you discuss much here. Its just that this week I really had some feelings of accomplishment over the long term, and I wanted to share them.
Three weekends ago was yet another Festival in the Philippines. This one occurring in the City of Bacolod, on the Island of Negros, which is just southeast of the island I live on. Bacolod has a reputation as being a fun city, with a good night life. So of course I had to go see Bacolod's Mascura Festival. It was a great time. It had been some a bit of time since I had seen lots of volunteers. We had two crazy nights. In terms of the festival, in my opinion, it ranked nothing to Ati Atihan. I did see a familiar face. Now you will all as well. If you go back to my past blog from January, Ati Atihan, you will see the below face with a pepper in his nose. He was at Mascura as well, and looking just as good!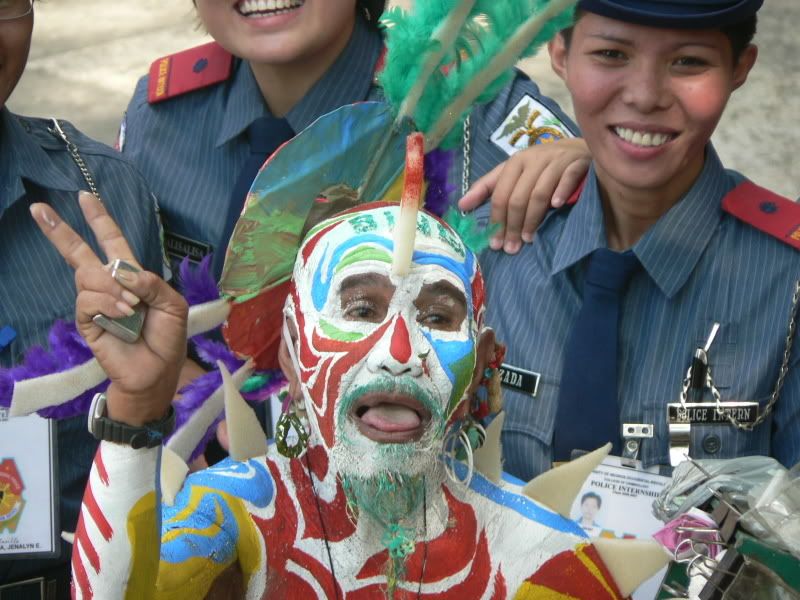 The next few pictures are also from Mascura. The one below is an example, in my opinion, of a waste of money and time. So much security. There were some bombings in the south the week before and threat of some in the north (aka Manila). However look at the picture. Smoking cigs, texting on cell phones, leaning on the fence, all standing together. There could have been only one of them and I would have felt as safe.


This guy rocked. Okay......How to get into this? When you go to cities here there are street kids, in some places many. Kids with no home, no family. During festivals there seem to be even more. They will always ask for money or food. Its hard but you can't give it to all of them, I don't have that much. No matter how much you realize they are in such a bad situation, that many times society has forsaken them, forgotten them, they can annoy you. I know this sounds horrible, but it is the truth. They will not leave you alone, keep tapping you on the leg or pulling at your clothes. Of course if you are white this is magnified greatly because here, all white people are rich. This guy was different. I dug him from the start. Myself and two friends were having an afternoon beer on the street and he just came up and sat at our table. He didn't say a word, he was just observing a group of foreigners hanging out. We decided to stay for another round so when we ordered we ordered a Coke for this guy. We shared our sumsumman (snacks) with him. He had the best smile and kept his newly acquired hat pulled really low. Later in the evening we saw him again, this time with a friend. My friends Erin and Nicole had just gotten plastic masks and they decided to throw them this kids way. They loved the masks! (the 2nd picture below). They hung out around our group for an hour or so, then went on there way. I hope he is doing good now.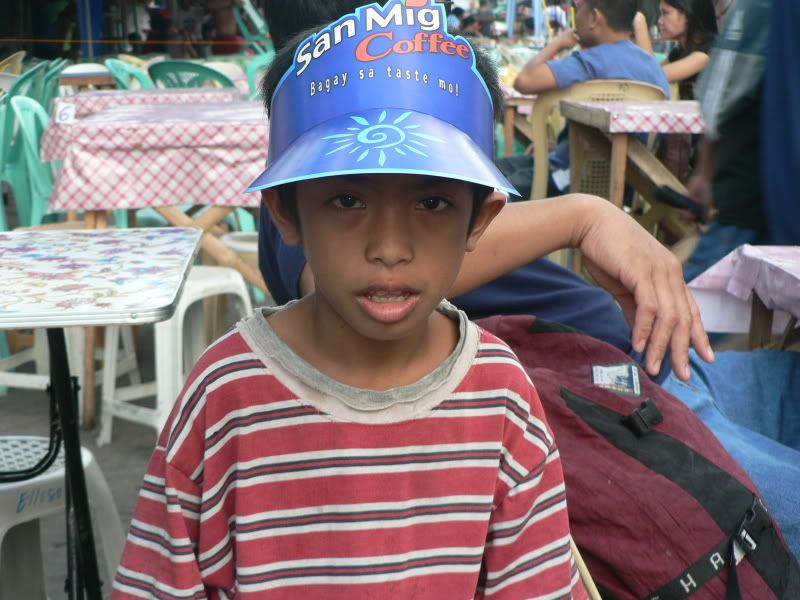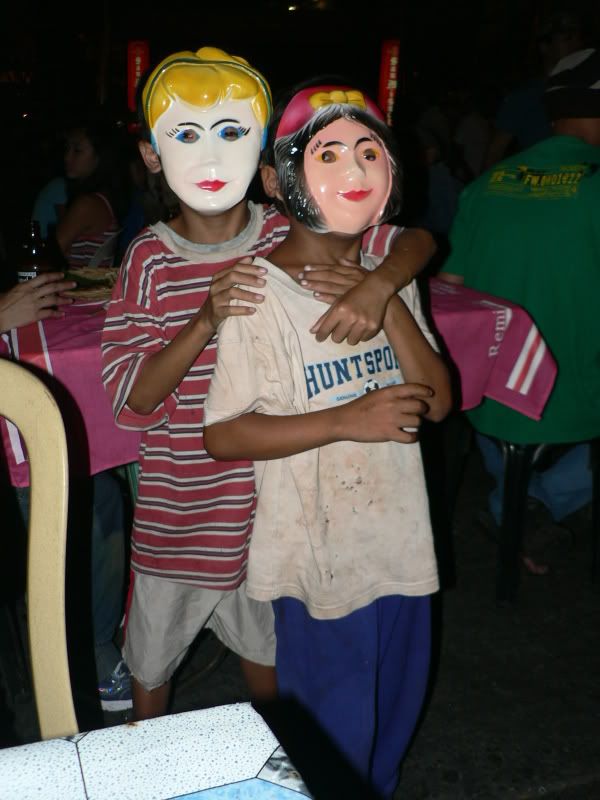 Also within the past month I have completed my Dive Certification, under CMAS. I am now a certified one star scuba diver. I have a depth limit of only 20 meters, but I hope to be achieving a two star diver within the next three months. This will put give me a max depth of 30 meters, and the ability to dive at night. I have fallen in love with scuba diving. There is nowhere in my past experiences in life where one can get so close to nature. It is fascinating. I love the quietness of being underwater, no matter how many or few people are diving with you. It is simply you and all that the ocean contains. Its Zen like, and after each of my few dives thus far I have come out of the water feeling rejuvenated and with a smile slapped across my face. It doesn't hurt that the Philippines is one of the best places in the world to go scuba diving either.
Earlier this week I was cooking dinner in my home when my friend came yelling for me to come with him to the next barangay (village) and see the sea turtle. Well I didn't know the Ilonggo word for sea turtle, but I knew he really wanted me to see something. So I joined. On the short walk I learned it was a sea turtle and I had to run back and get my camera. As we gathered around everyone was joking and laughing about killing and eating it. Which no one would do now, if they were going to do that no one would have known there was a sea turtle. Its a big big big no no, that is accompanied with jail time and a large fine. It seems that up until the mid 80's there were lots of these guys around, and they tasted very good. Thus they are sparse in the present. This guy got caught on a fishing hook, but is lucky it was in Miagao. The University of the Philippines Fisheries school is located here. They were contacted, picked up this guy, tagged him, and he has already been released. Lets hope his luck holds.
The rest of the pictures are from my Barangay. More or less more faces in the crowd, along with some daily occurrences here that may not seem so daily to you all. Like the coconuts in front of my house that were collected and awaiting transport to the market, or the rice being dried on the basketball court (its harvest season).
I'm getting excited for Thanksgiving. I wont be celebrating on the Thursday however, but instead the following Saturday, the 25th. I have already bought two turkeys, 15 kilos in total. Of course they are still alive, and on the morning of Saturday the 25th, Friday night for those of you in America, I will be killing them and roasting them over an open fire on a long bamboo pole. I'll be celebrating with some other volunteers who live on my island. I wish you all a great Turkey Day! Take care and Peace!