Mt. Napulak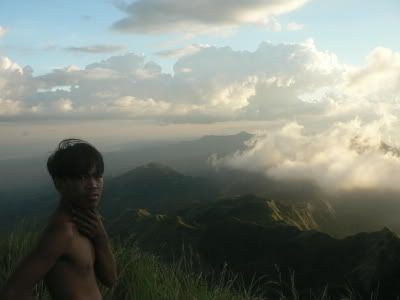 This past weekend was one of the most fun and enjoyable weekends I have had in a long time. Through meeting various people in the city, I was connected with the Iloilo Mountaineers. They were doing a fun climb to Mt. Napulak, which is located in the Provence north of Iloilo Provence. The thing about Mt. Napulak is that ever since my first visit to Miag-ao, I saw this mountain in the distance, it is very distinctive. It is the tallest in the area and has, what appears to be, a giant boulder at the top. So after be given the opportunity to spend a few days hiking and camping over the weekend, I of course accepted. I realize as I am writing this that I have failed to take a picture of the mountain from its base. I will try to get a picture up soon so all can see it. These pictures are all taken from the summit.
Now I don't want any of you did get any mis-conceptions. By now means was this a difficult climb, or technical in anyway. Just a lot of fun. A few spots along the way could have been considered a bit "hairy." As long as you kept your concentration and didn't fall off a path you were fine. It took a little under 7 hours for myself to get to the top with the first group of people. Other people took quite a few hours longer. The decent was much faster, for obvious reasons and we took a different route down. We did it in 3 hours.
It was great to be able to see islands off in the distance that I never could see from my beach. I could see 3 or the 4 major coasts of Panay island which was very interesting as well. When we arrived in the afternoon clouds were steadily rolling through, and visibility was fairly limited. However I woke up rather early, climbed to the top of the "Boulder" at the peak (which is much more like a huge rock formation once you are at its base, about 30-40 meters high and the same in width, great fun to boulder on) and watched the sun rise over Panay's neighboring island of Gimaras. It was stunning.
Below: Me, posing for all of you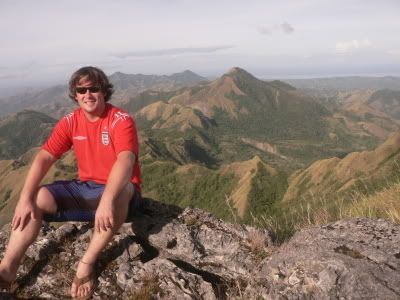 Below: Dusk at the top of Napulak
Above: The left side of the picture, on the coast, is roughly where my house and beach are located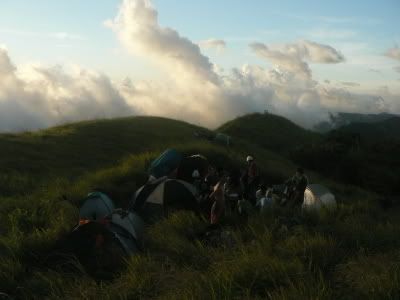 Above: Our campsite
Below: The ridge we hiked to reach the top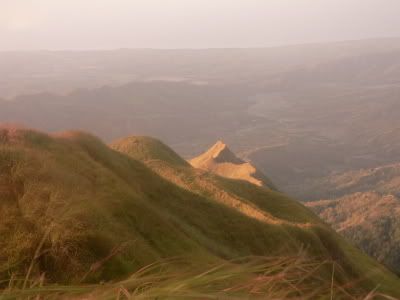 Above: Me posing one more time for all of you
Below: The "Boulder" at the top of Mt. Napulak. From my understanding the cross is a very recent, and not very visually aesthetic, addition to this gorgeous piece of nature.